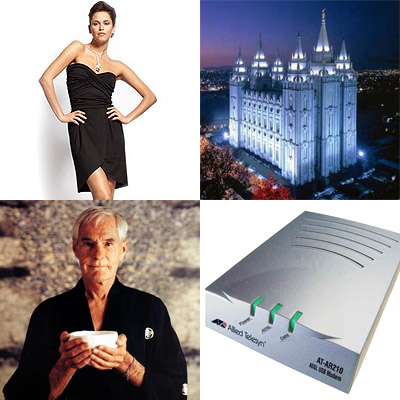 1. DLS =
Den Lilla Svarta
, ett av de säkra korten när det skall vara fint. Lanserad av Coco Chanel 1926, fast det tog några år innan den satte sig (eller vad det nu heter).
2. LDS = LDS Church =
The Church of Jesus Christ of Latter-day Saints
= Jesu Kristi kyrka av sista dagars heliga; eller mormoner som i praktiken är det enda någon kallar dem. Jag har tidigare skrivit om
Den osannolika LDS-kyrkan
.
3. LSD =
Timothy Leary
. Förespråkade nyttan av psykedeliska droger. Myntade begreppet "turn on, tune in, drop out".
4. DSL =
Digital Subscriber Line
(f.d. Digital Subscriber Loop). Använd i just detta ögonblick av bra många av ni som läser detta.